Summer Solstice Herbal Ritual Box
$135 value including shipping!
Pay $125, $119 or $113 when you sign up for multiple seasonal boxes!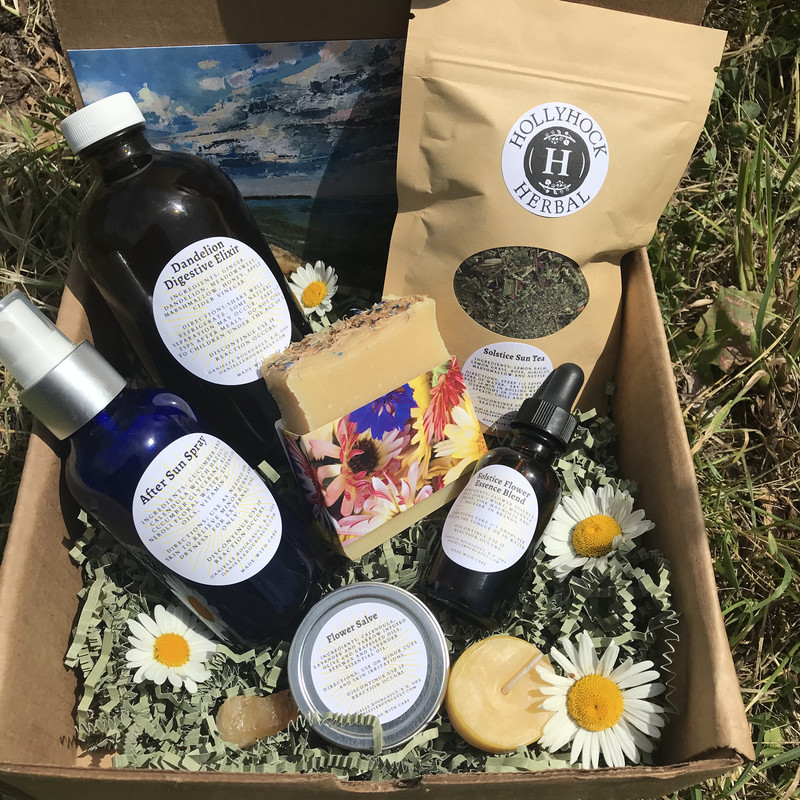 This Herbal Ritual Box is focused on the Summer Solstice, the longest day of the year where we celebrate the sun's energy, and the abundance and opportunities of the season.

This box will contain;

Intention Card by Artist Laurie Satok
Lauren Satok is a visual artist living on Mnidoo Mnis (Manitoulin Island). Her work focuses on how land and landscape informs its inhabitants on how to care and sustain its life.
This card can be sent to a friend if you want to share your good intentions, burned if you are letting something go, placed on your altar or even tucked away to look at throughout the year as a reminder, or however feels right to you!

100% beeswax Candle
This tealight is locally made, hand poured from 100%beeswax. Light this candle as you set your intention, or however you choose to use it.

Yellow Citrine Stone
This is a great stone for optimism and opportunity. Keep this stone on your altar or carry it with you to help you confidently grab the opportunities that comes along.

After Sun Spray (120ml)
A cooling blend of cucumber and calendula infused witch hazels with added aloe and glycerine to soothe the skin. Neroli, Lemongrass and Grapefruit essential oils combine with the herbal infusions for a fresh scent.

Flower Salve (1oz)
This salve contains all the sun energy in flowers; calendula, lavender and yarrow infused oils combine with beeswax and vitamin e. Use this for minor wounds and skin irritations.

Sun Tea (30g)
Rose, Hibiscus, Lemongrass, Lemon Balm, Marshmallow, Nettle
An uplifting and refreshing tea blend. Serve it hot or cold. This can be steeped in boiled water or made as a sun tea in the warm summer sun.

30ml Solstice Essence Blend
This essence blend contains Flower Essences of Solstice Wort, Magenta Peony, Pink Magnolia and Rhubarb in Brandy and Water. A blend of essences to safely open up, lean in and ground down into the opportunities and abundance of the Solstice season.

1 Bar of Flower Soap by Rose
All natural soaps include Avocado and Nettle, Elderberry and Lavender, Citrus and Carrot or Rose Hip and Geranium combinations. All soaps made with natural ingredients, plant based oils and essential oils. Made by Rose on Mnidoo Mnis.

Digestive Elixir (250ml)
This Digestive Elixir, made with apple cider vinegar and honey is infused with Dandelion, Meadowsweet, Ginger and Marshmallow to stimulate, sooth and heal the digestive tract. Keep refrigerated and take 1 teaspoon before meals.

Shop for the Summer Solstice Box
**all items made by me unless indicated otherwise. All items for future boxes subject to change or be replaced by an item of similar value should my supplies not be available for a particular product. However, once product descriptions are listed I will not change the item.

***Please note that there are no cancellations for pre-ordered boxes as I order my supplies months in advance based on orders. As I am a small business I can only accommodate refunds or cancellations in very extenuating circumstances. That being said, if you need something accommodated I will do my best to provide you with a solution.