Spring Equinox Herbal Ritual Box
$135 value including shipping!
Pay $125, $119, $113 or $106 when you sign up for multiple seasonal boxes! Find it here.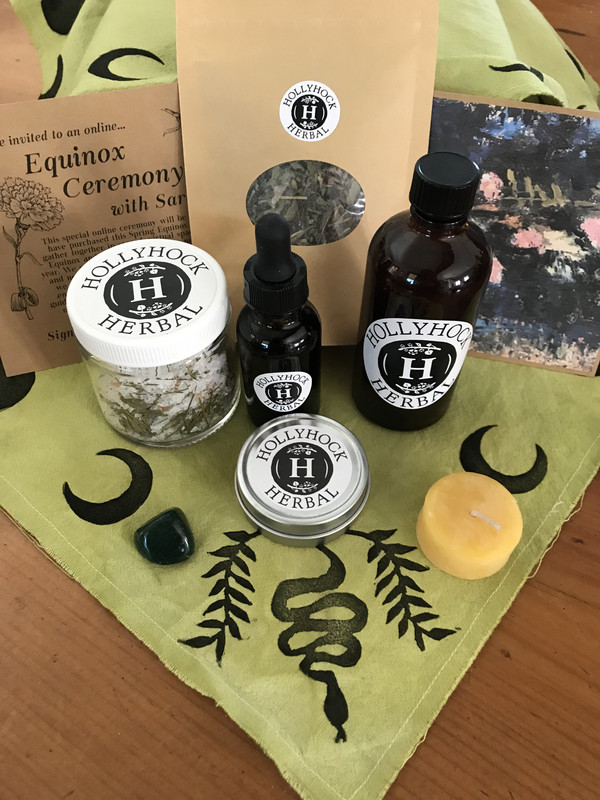 This box is focused on the Spring Equinox, the midpoint and transition between Winter and Summer Solstices. This box will contain;
Intention Card by Artist Laurie Satok
Lauren Satok is a visual artist living on Mnidoo Mnis (Manitoulin Island). Her work focuses on how land and landscape informs its inhabitants on how to care and sustain its life.
This card can be sent to a friend if you want to share your good intentions, burned if you are letting something go, placed on your altar or even tucked away to look at throughout the year as a reminder, or however feels right to you!
100% beeswax Candle
This tealight is locally made, hand poured from 100%beeswax. Light this candle as you set your intention, or however you choose to use it.
Green Aventurine Stone
This is a great stone for change and transition and right now there seems to be a lot of that going on! Keep this stone on your altar or carry it with you to help you positively embrace change and confidently make decisions.
100ml Bottle of Lung Tonic
Honey is blended with alcohol extracted herbs including; Goldenrod, Ginger, Thyme, Yarrow, Hyssop, Bee Balm and Elecampane to soothe and protect the lungs. You can use this everyday to support the lungs.
1oz Tin of Rose Hibiscus Lip Balm
This lip balm only contains a few ingredients! Oils infused with rose to soften skin and just enough hibiscus for a little pink tint are combined with just enough beeswax to make it solid. Use this to soothe chapped lips on the last days of winter…
30g of Lavender, Rose hip, Tulsi and Rosemary Tea Blend
Just the right combo of stimulating circulatory herbs and calming herbs to feel calm and energized at once. A great blend for coming out of that winter fog and covid burnout.
4oz of Forest Bath Salts
Pine needles, Cedar leaves, Spruce tips and a hint of essential oils combined with Sea Salt and Epsom Salts make for a rejuvenating bath blend. Use a tablespoon along with your other favorite bath salts or all at once for a really luxurious soak.
30ml Essence Blend
This essence blend contains Blue Iris Flower Moon Essence, Blue Violet Flower Essence, Yew and Cedar Tree Essences, to help bring you in closer relation to the earth energy, to aid with fatigue and to move forward with confidence as spring arrives.
Altar Cloth by Reid Zoe
Hand dyed with plant dyes from abundant plants from the land including Buckthorn (European Invasive) and Wild Grape. Stamped print made with hand carved blocks, printed on 100% cotton cloth.
Spring Equinox Ceremony with Sarah Rayne
Voucher for Saturday March 20th at 6-7pm EST. We will work with themes of balance, awakening, and new life. Incorporating the items from your box, we will share intentions and reflections together in community, discuss the energy & astrology of the moment, and share in a guided plant meditation + a tea ceremony. We will seal our time together with a springtime song, and an intention setting ritual for the new cycle ahead.
**all items made by me unless indicated otherwise. All items for future boxes subject to change or be replaced by an item of similar value should my supplies not be available for a particular product. However, once product descriptions are listed I will not change the item.
***Please note that there are no cancellations for pre-ordered boxes as I order my supplies months in advance based on orders. As I am a small business I can only accommodate refunds or cancellations in very extenuating circumstances. That being said, if you need something accommodated I will do my best to provide you with a solution.