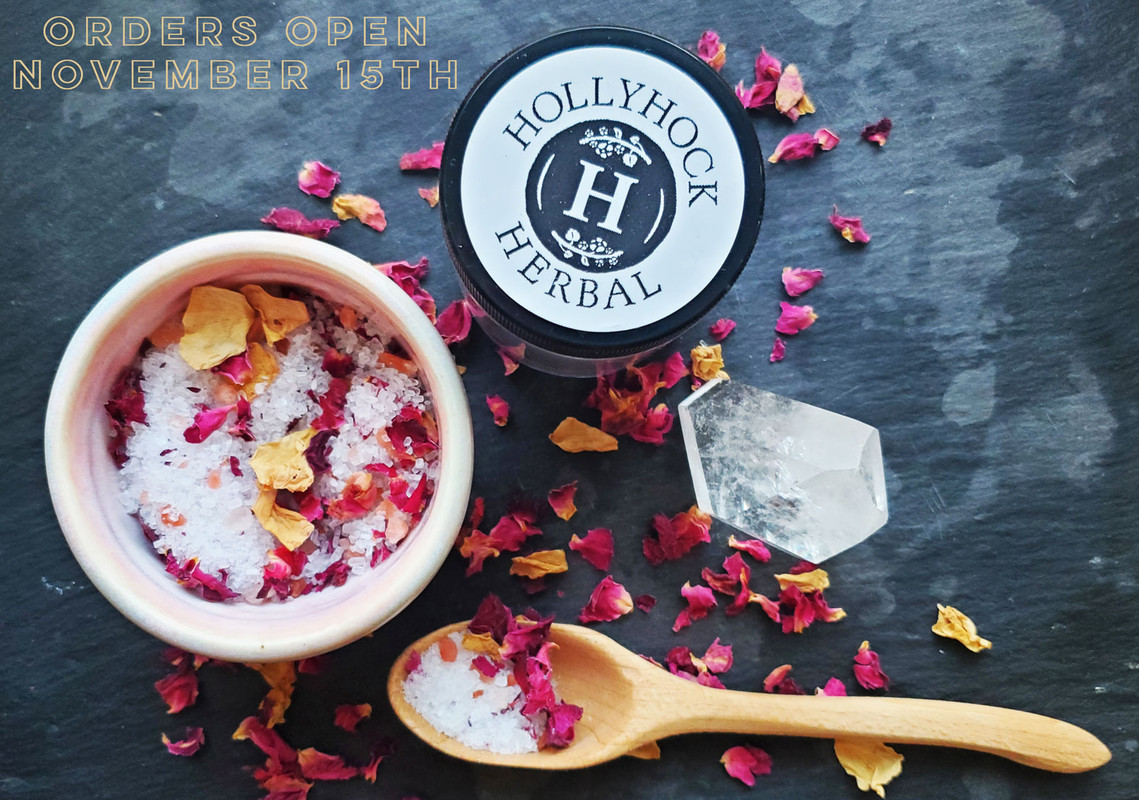 Winter Solstice is the shortest day of the year and marks the beginning of longer days. This time is about letting in the light. This kit includes some items to help you shed the old and let in the new. There is no right way to engage with this box. Ritual is personal and doesn't need to follow any rules. If you are someone (like me!) who likes suggestions/directions, here are a few to get you started; Light your candle (do not burn unattended), burn your herb bundle and run yourself a bath or foot bath using the included bath salts. Place your crystal on your altar (where you can also place your candle). The Tarot card included in this box was hand picked just for you. I recommend you spend some time with it, looking at all the items and details in the image. What is it bringing up for you? What symbolism are you finding and how does it relate to this time for you? If you want to learn more about your card I recommend littleredtarot.com or biddytarot.com as great resources. I've included an intention card that you can write your solstice wishes on. This card can be sent to a friend if you want to share your good intentions, burned if you are letting something go, placed on your altar or even tucked away to look at throughout the year as a reminder. Again, this is a personal box of items just for you and there is no wrong way to engage with it. I'm so excited for you!
The Mini Solstice Magic Box Contains:
Burning Herb Bundle
This bundle can be burned for dreaming and divination for protection and boundaries. Yarrow encourages good boundaries and making sure we don't give too much of ourselves. Mugwort is a dreaming herb. This is a great time to use these plants since solstice is a great time for letting in the light and dreaming up what we want for the year to come.

Quartz Crystal
Quartz is used to amplify or disperse energy. This crystal can be used to amplify other crystal energy, your intentions, or whatever medicines you are working with. Please it on your altar, carry it with you or use it however you feel works.
Hand Picked Tarot Card
This card was picked for you when your box was ordered. Study the card and notice any elements that speak to you. If you want to learn more about tarot cards and their meaning and messages, I suggest biddytarot.com or littleredtarot.com.
Forest Salve
Contains pine, poplar & cedar in grapeseed oil with castor oil to help draw things in. It also contains beeswax and essential oils. It smells like the forest and is a great salve for chapped winter skin.
Immune Elixir
Contains elderberry, echinacea and ginger, honey and a bit of alcohol to preserve it. This is a great tonic to help prevent colds and flus and can be taken daily.
100% Beeswax candle
Bath salts
Epsom salts, Himalayan salts, rose petals and essential oils. A nice soothing blend, equally energizing and relaxing.
Intention card
You can use this card to write out your intentions for the year, burn it or place it on your altar or send it to a friend.
Additionally, The Solstice Magic Box (full size) Contains:
2 more Tarot Cards and an example spread. These cards contain a message just for you, for your year ahead.
Face oil
This Face oil contains rosehip infused grapeseed oil, jojoba oil, Calendula infused olive oil, Camelia oil. This blend is gentle and soothing with vitamin C from the rosehips and calming calendula. Jojoba is the closest oil to natural skin oil making this an easily absorbed blend.
Herbal Face Toner
Witch hazel infused with Chamomile, Yarrow, Hibiscus and Rose with a little glycerine for a smooth feel, this toner is great to gently soothe and astringe.
Flower essence blend
St Johns wort, magenta coloured peony, pink magnolia and rhubarb flower essences are blended to bring out your inner light, align your heart and mind, to attract and magnetize and be receptive to abundance and all you hope for this year.