Build Your Altar with a Quarterly Herbal and Ritual Box Set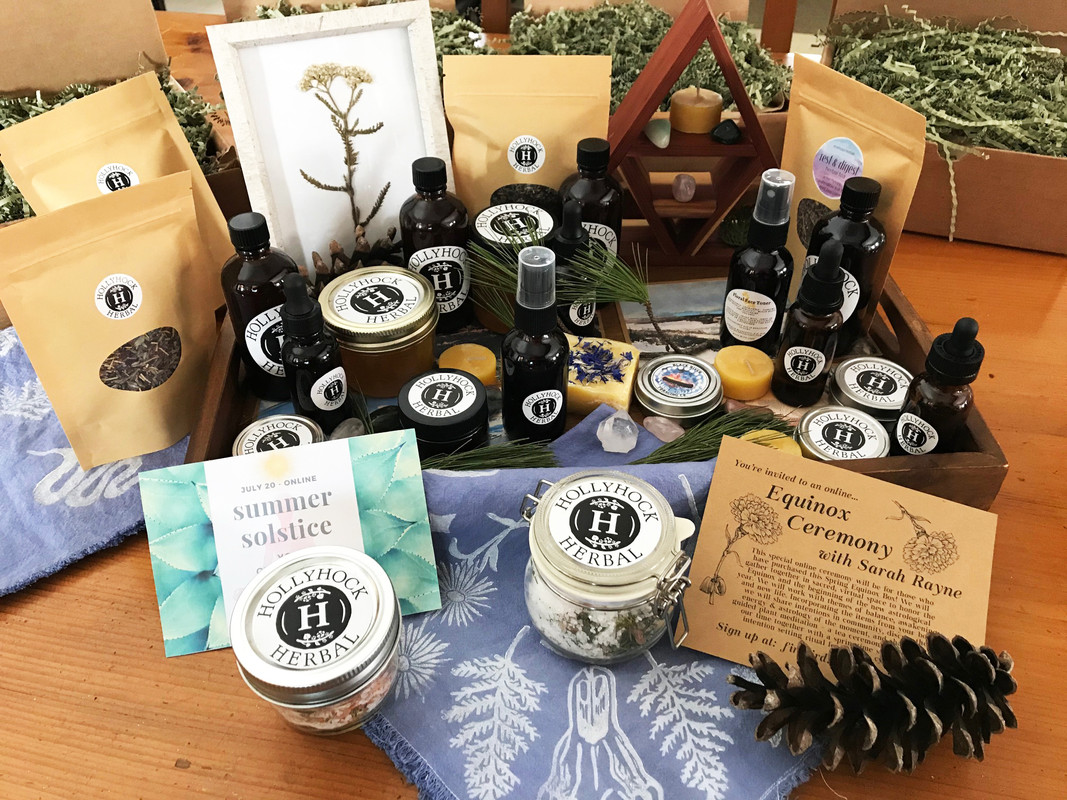 Altars are places for ritual, usually a raised surface for offerings and devotion, sometimes to ancestors, loved ones who have passed, deities, the earth, to ourselves or others. Many faiths and traditions have used and still use altars today. Altars can change according to the season or the ritual, and sometimes it faces a particular direction (the North, towards the sun, etc.) I invite you to create, add to, or re-make your altar (or an additional altar) as you feel called to do. Altars can be made out of a variety of materials, like wood, dirt, or marble and can be displayed in homes, churches or in nature. This box can help support your ritual and your altar and the herbal products can be used in conjunction with this practice or on their own. What's important is that you find what works best for you.
Quarterly Herbal & Ritual Box Set
Similar to the Solstice box, this Quarterly Box Set contains elements of Herbal Medicine and Ritual Magic. I've designed this Quarterly Box Set for you to receive this magic 4 times throughout 2021. It will contain items so you can build your altar; crystals, candles, an altar cloth, a plant pressing and a curio shelf. It will also contain herbal medicine and self-care products, such as; teas, salves, infused honeys, bath salts, elixirs, medicines, flower essences and soap. The details of each item will be announced at least a month before shipping deadlines.
Pricing;
$125 for one box
$238 for 2 boxes (save 5%, $12.50)
$338 for 3 boxes (save 10%, $37.50 )
$425 for 4 boxes (save 15%, $75)
-includes shipping to Canada and US
-multiple-box discounts automatically
applied at check-out

Find it here.

Each box will be geared towards the season and in total you will receive ($540 value including shipping!);
4 candles (100% locally made, hand poured beeswax)
4 crystals
4 intention postcards (made by artist Lauren Satok)
4 herbal teas (one made by Eramosa Herbals)
4 elixirs (Lung Tonic, Elderberry, Fire Cider, Evergreen)
3 salves (including 1 by Black River Foraging Co.)
1 lip balm
4 essence blends
2 herbal bath salt blends
2 herbal infused honeys (one using Redwing Herb Farm herbs)
1 spray
1 cream
1 soap by Rose Diebolt
2 events; Solstice Yoga with Aileen Duncan
Equinox Ceremony with Sarah Rayne, Firebird Healing Arts
1 fragrant cedar wood curio shelf by Makers Acre Farm
1 hand dyed, hand printed altar cloth by Reid Zoe
1 plant pressing by Kirk Jordan
**all items made by me unless indicated otherwise. All items for future boxes subject to change or be replaced by an item of similar value should my supplies not be available for a particular product. However, once product descriptions are listed I will not change the item.
***Please note that there are no cancellations for pre-ordered boxes as I order my supplies months in advance based on orders. As I am a small business I can only accommodate refunds or cancellations in very extenuating circumstances. That being said, if you need something accommodated I will do my best to provide you with a solution.